Leverage Face2Face for Maximum Engagement
What if you could sit down with your friends, colleagues and even total strangers during a virtual event to riff about the event, network with industry experts, grab a coffee in Gather.Town, or share feedback about the presentations via a survey? With Face2Face, one of LoudSwarm by Six Feet Up's most raved about features, you can.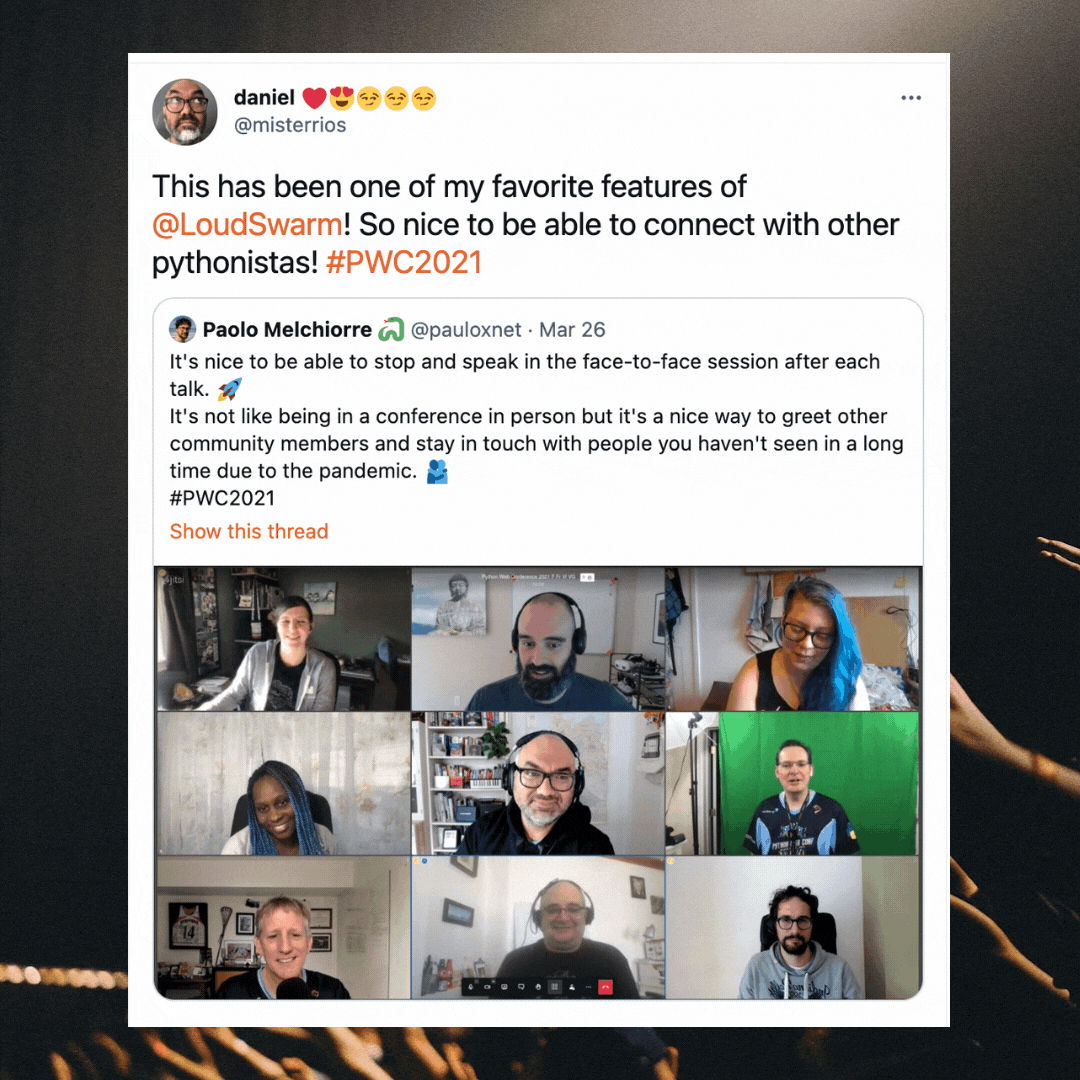 Face2Face allows online conference attendees to connect, person-to-person, with the simple click of a button. LoudSwarm's expert event producers have worked with organizations and helped them successfully execute this feature in a variety of ways. Let's take a look:
Host Organic Discussions
Face2Face is most commonly used to facilitate organic breakout discussions — before, during and after presentations — using video conferencing technology like Zoom or Jitsi. While the technology may be simple, the fact that the links are always live and conference participants can join the room at any time makes the feature stand apart from similar tools. Think about it:
Before a presentation starts, you can mingle with your friends, colleagues and peers — just like you would at an in-person ballroom.
During the presentation, you can network with those who have similar interests and discuss feedback. LoudSwarm also seamlessly integrates with Slack for real-time messaging — everyone loves a good clap and encouragement from emojis! 👏 💯
At the end of the presentation, speakers are encouraged to join Face2Face. Like approaching the podium at the end of an in-person presentation, speakers answer questions from attendees and keep conversations going after the formal presentation is over.
Bonus: if the presentation is pre-recorded, the speaker will often join Face2Face before and during the presentation as well.
Get Creative
If neither Zoom nor Jitsi suit your event's needs, the Face2Face link can be customized per session. In other words, each talk could direct attendees to a different objective including:
the sponsor booths or landing pages,
the Twitter feed of the event (or talk itself),
a digital swag bag/resource page,
a link to purchase a ticket for next year's event, or
a survey (details below)!
Gather Feedback
Speakers are always anxious to hear what attendees thought of their talks — and event organizers are always looking for ways to improve their next event. If your audience is more interested in interacting in Slack as opposed to video chat, event organizers can utilize (and rename) the Face2Face button to request feedback via a real-time survey. Feedback forms and surveys allow attendees to share accurate and honest thoughts about the content they just watched.
The opportunities for leveraging LoudSwarm's Face2Face feature for maximum engagement are limited only by the event organizer's imagination. Whether you're hosting a virtual or hybrid event, Face2Face can help facilitate organic discussions with attendees, speakers and sponsors.
Could LoudSwarm by Six Feet Up be a good fit for your upcoming virtual events? Our event producers will be on hand to provide support and share best practices to ensure your event goes off without a hitch. Simply drop us a note and/or schedule a demo of LoudSwarm's features and white-glove service.