Create a Virtual World to Facilitate Meaningful Connections
One of the biggest challenges virtual event organizers face is determining how to make an online event both engaging and memorable. What do people remember most about conferences they attend? In general — while keynote presentations are high on the list — most people return from a conference with fond memories of the like-minded people they networked with.
How can event organizers replicate that networking experience and connect attendees, speakers and sponsors in a meaningful way? For many, Zoom isn't cutting it. Try creating a virtual world that people can explore.
At this year's Python Web Conference, event organizers at LoudSwarm by Six Feet Up did just that. Using Gather — a fully customizable platform that combines video-calling with a 2D map and encourages participants to wander around a digital space in the form of an avatar — the team created an interactive virtual world that included:
an info desk where people could ask questions about navigating the platform, the conference, social events and more;
sponsor booths;
breakout sections for each track (e.g., App Dev, Cloud, PyData and Culture);
a stage for lightning talks;
a lounge complete with a virtual bar, jukebox and poker table; and
meeting spaces — complete with interactive whiteboard capabilities — where participants could join tutorials, share poster presentations, have private conversations, host job interviews and more.
For Python Web Conference attendees (see a map of the conference's Gather.town space below), Gather was a big hit. Attendees enjoyed using Gather's fun user interface (UI) to mimic real-life interactions and testing the platform's features (e.g., press and hold Z to "dance"). While most people didn't take the time to "bump into" strangers, organized events like the lightning talks and the bartending basics session did facilitate organic conversations amongst strangers.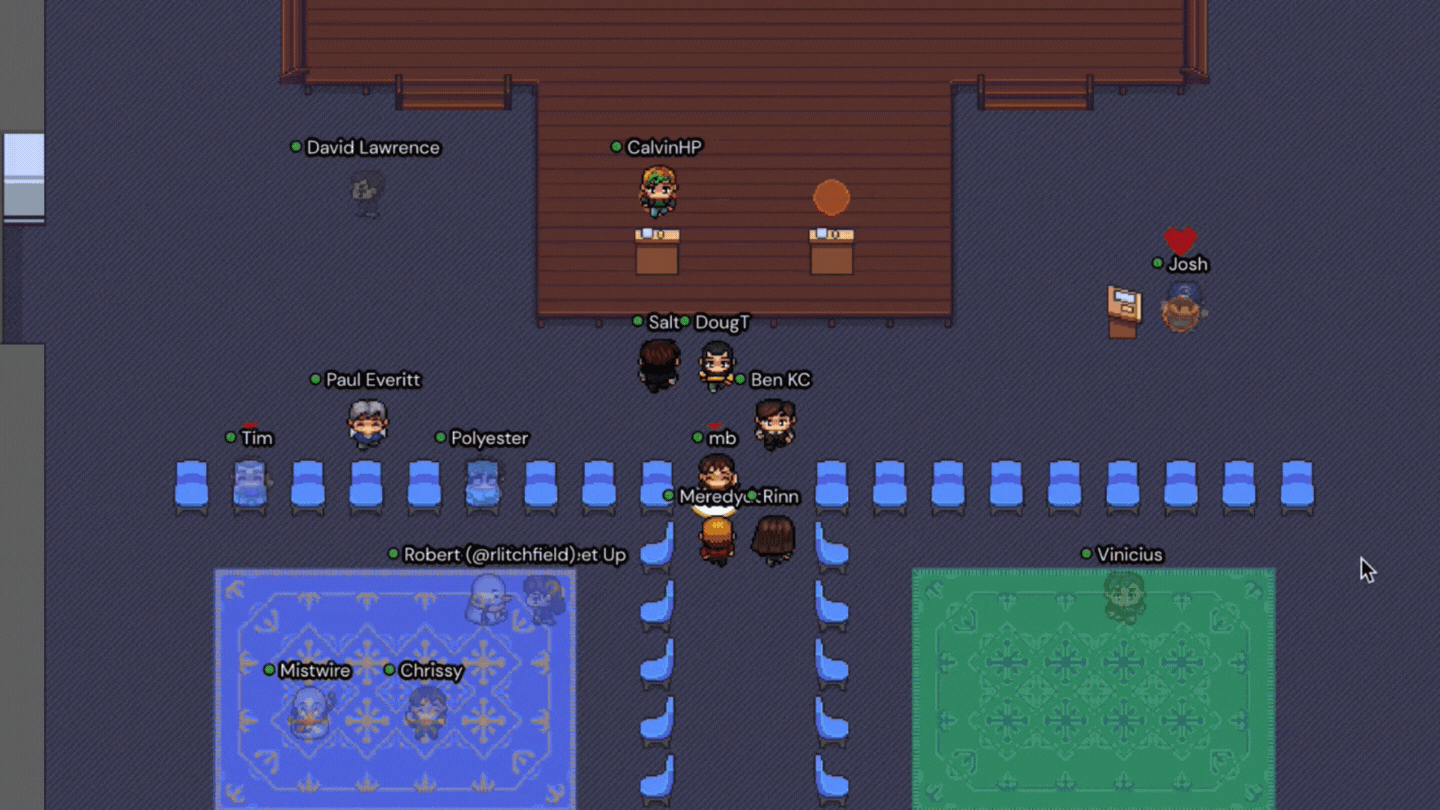 To create a virtual world that facilitates meaningful connections, make sure to plan ahead. Specifically:
Determine which features are important for your space. While some virtual events need sponsor booths, others could benefit from rooms that facilitate out-of-office interests — think video game competitions, books clubs and beach scenes.
Provide attendees with resources on how to best utilize the platform and engage in your space. Share a calendar of events happening within the virtual world; send notices/reminders before each event starts; and produce short best-practice guides or how-tos. Attendees will benefit from structure.
Have dedicated cheerleaders/conversation starters in the space. To prevent awkward silence, stage people who can ask questions and facilitate engagement.
Overall, using tools like Gather that combine video gaming and teleconferencing tech can provide meaningful opportunities to engage with attendees, speakers and sponsors.
Could your next online event benefit from a virtual world? Share your virtual world ideas with us and/or schedule a demo of LoudSwarm by Six Feet Up's features and white-glove service.